Join the I Want To Work Campaign
Join to Advocate for Employment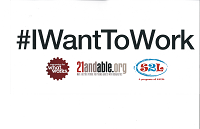 The I Want to Work Campaign (of which The Arc is a partner) is a self-advocacy campaign aimed at promoting employment for youth with disabilities. We aim to make sure that students have internship and part-time job experiences so that they are better prepared for post-graduate employment.
I Want to Work is leading a selfie campaign the week of Oct. 20. The idea is for youth still in high school to schedule appointments with their legislator(s) and pose with their legislators holding the I Want to Work poster. Pictures can then be posted on Facebook and other social media outlets. This campaign is to gather support for additional funding in HB 2045 for students to have OVR support while still in school so that they can have part time jobs just as students without disabilities. These part time jobs lead to full employment after graduation.
The Arc of Pennsylvania will be joining Secretary Beverly Mackereth at the Capitol on October 23 for selfies.