ABLE Act
Read our Press Release about PA ABLE!
Click here for more documents about the ABLE Act, PA ABLE Legislation, and ABLE Savings Accounts.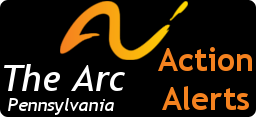 Advocacy
One of the main functions of The Arc of PA is to be a leader in advocacy for people with disabilities. If you are interested in learning more about advocacy, please read our Advocacy 101 article. 


Include Me
Include Me is an initiative started by The Arc of PA to facilitate the inclusion of children with significant disabilities in mainstream education classrooms. Click here to go to the Include Me website.
ADEPT
ADEPT is an exciting positive evaluation and customized employment initiative of The Arc of Pennsylvania and Include Me. Click here for more information about ADEPT! 
Statement on State Budget
The Arc of PA continues to take a strong stance on funding for Pennsylvanians with intellectual and developmental disabilities. We are incredibly concerned that in the midst of a vetoed budget, liquor and pension discussions, and arguments over shale tax, the needs of Pennsylvanians with significant disabilities are being forgotten. Read our press release that asks Governor Wolf and the legislature to do better for Pennsylvanians with disabilities as budget negotiations resume.
Click here to view the budget items we are particularly concerned about. 
This chart illustrates the low funding levels of community based services compared to other services.