Alexa's Home
Alexa Brill is a college graduate, advocate, and home owner. She also happens to have cerebral palsy. You can now view "Alexa's Home", a video sponsored by The Arc of Pennsylvania, which shows how Alexa lives independently with the help of techonology. 
Free Advocacy Training August 17
Want to learn how to talk to your federal House Representative? It's an important election year and legislators need to hear from you about current disability issues. The Arc of Pennsylvania is offering the Make Yourself Heard advocacy training on August 17 at The Arc of Pennsylvania office in Harrisburg from 9 am - 3 pm. Self-advocates, board members, family members of a person with a disability, and professionals are invited to attend this one-day training focused on connecting local members and chapters of The Arc to their US federal Representatives. More details and registration information available here.
Art: The Universal Language
Individuals with disabilities offer unique, diverse, and valuable perspectives that can benefit all Pennsylvanians. Artistic ability and expression offer unique opportunities for everyone to appreciate and understand the talents and perspectives of Pennsylvanians with a disability. The contest is open to multiple ages (child-adult) and submissions must be received by August 15, 2016. For more information and to view the entry form, click here.
This art contest is a collaboration between the Department of Human Services, The Arc of Pennsylvania, PA Mental Health Consumers' Association, Pennsylvania Statewide Independent Living Council, and the Pennsylvania Council on the Arts.
Advocacy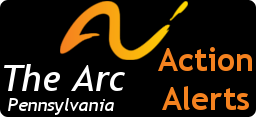 One of the main functions of The Arc of PA is to be a leader in advocacy for people with disabilities. If you are interested in learning more about advocacy, please read our Advocacy 101 article. 

Knights of Columbus


Include Me
Include Me is an initiative started by The Arc of PA to facilitate the inclusion of children with significant disabilities in mainstream education classrooms. Click here to go to the Include Me website.
ADEPT
ADEPT is an exciting positive assessment and customized employment initiative of The Arc of Pennsylvania and Include Me. Click here for more information about ADEPT! 
PA ABLE Accounts
The Arc of Pennsylvania applauds Governor Wolf for signing SB 879, PA ABLE, into law as Act 17 of 2016. Act 17 allows the Pennsylvania Treasury Department to create and offer ABLE savings accounts in Pennsylvania. The Arc of Pennsylvania particularly recognizes Senator Lisa Baker who introduced and championed SB 879 and the hundreds of advocates who supported passage of PA ABLE. For more information on PA ABLE, visit our ABLE Resource Page.
Before the federal ABLE Act passed in December 2014, asset rules prevented people with disabilities from saving more than $2,000 – if they did, vital benefits like Medicaid would be cancelled. These rules created a system that disincentivized working and economic self-sufficiency. People with disabilities could not save for important items that would increase their financial independence and employability, such as transportation, assistive technology, and housing, without losing the supports needed to maintain their employment and community living. Each state had to decide whether to offer ABLE accounts; Pennsylvania joins thirty-four other states and the District of Columbia in creating an ABLE account program.
PA ABLE savings accounts allow people with disabilities to save up to $14,000 annually and use these funds for a wide range of community living expenses, including housing, assistive technology, education, and transportation. Qualified withdrawals from ABLE accounts will be exempt from federal and state income tax. People with ABLE accounts will be able to save money and still be eligible for Supplemental Security Income, Medicaid and other means-tested federal programs.
PA ABLE will be structured to ensure that after death, funds remaining in a person's ABLE account can be distributed according to his/her will or roll over to an eligible sibling.